Last year, the 51-year-old Phil Mickelson rolled back the years to win his second PGA Championship, and sixth major, at Kiawah Island Golf Resort's Ocean Course on Kiawah Island. Along with the major victory, Mickelson created a buzz on the internet for his physique as he was in his best shape ever. Since then, people have become curious to know the details about Phil Mickelson diet plan. 
Mickelson was never recognized for his body or athleticism when he was competing in golf tournaments and building a reputation for himself. As he grew older, he realized the toll his way of life was having on him.
The PGA golfer admitted to South China Morning Post that he wasn't recovering as fast as he wanted to after the rounds and he was feeling tired towards the end of the round. So, he felt that he need to get back in better shape to get lighter and recover fast.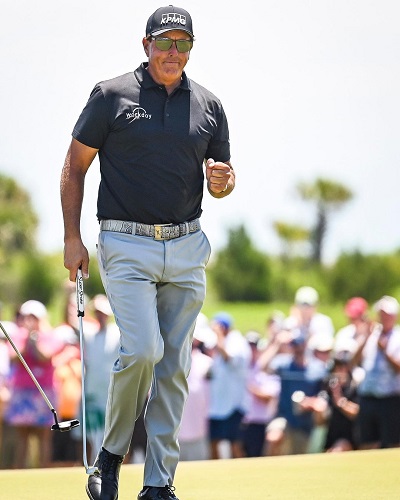 Mickelson's weight wasn't the only issue he was having to deal with. In 2010, he was diagnosed with psoriatic arthritis, which had progressed to the point where he was having difficulty walking on some days.
Mickelson decided to take matters into his own hands and try to lose weight in order to improve his fitness. It wasn't going to improve his golf skills, but it was going to benefit his health.
Here is everything you need to know about Phil Mickelson diet plan, which helped him lose weight and stay fit.
Phil Mickelson Diet: Shed 15 Pounds From His Water & Coffee Diet
Over the years, Mickelson has experimented with a variety of diets. He tried a vegetarian diet in 2010, but he soon switched to the Paleo diet, which emphasizes lean meats and healthful meals while avoiding as much processed food and sugar as possible.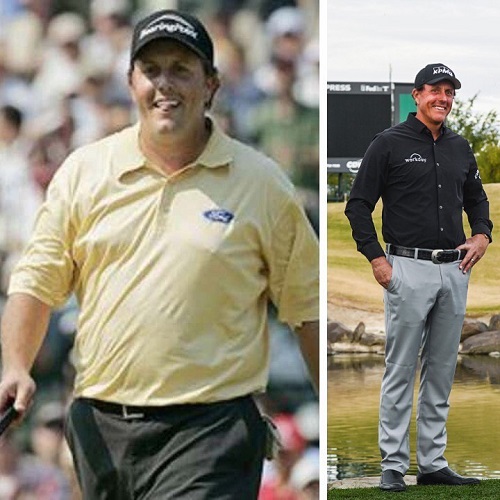 Mickelson recently experimented with a more severe diet. This wasn't a long-term diet designed to help him cleanse his system, enhance his metabolism, and lose weight. Instead, the golfer went on a six-day fast, subsisting primarily on water and coffee. He claimed to have shed 15 pounds as a result.
Although a diet like this isn't for everyone, coffee is known to provide a number of health benefits. Mickelson appeared to be using the fast to get something going. In August 2019, his wife shared a photo of Mickelson at the beach, shirtless and slimline, with muscles visible on his once-doughy tummy.
---
Read More: Obi Vincent's Workout Routine And His Fitness Journey
---
Phil Mickelson's Weight Loss Diet Plan
According to Mickelson's doctor, Dr. Ara Suppiah, Mickelson sought the advice of a nutritionist to test for and identify foods that agree with his digestive system.
He then settled on an eating plan that resembles a Mediterranean diet: nuts, fish, oils, green vegetables, etc. He also started controlling his food intake.
Mickelson also takes a week or two off from eating solid foods for 36 hours at a time. During that time, he eats nothing but water and coffee.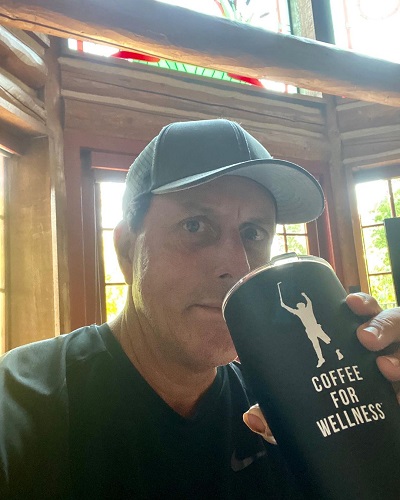 The PGA golfer believes that coffee is the key to success. He was told that drinking more of it (combined with green-tea extract) would help him strengthen his immune system. Not just any coffee, this one has a long list of ingredients, including protein powder, sea salt, almond milk, triglyceride oil, honey, cinnamon, and the amino acid supplement L-theanine.
Phil noted that depending on his schedule, he changes his 36-hour, day-and-a-half weekly fast. If he is playing, it's usually at the beginning of the week.
Phil Mickelson's diet regimen is as follows: 1.5 days of fasting to cleanse and purify his body so it can recuperate, followed by 5.5 days of healthier food overall. However, while the benefits are obvious, they are not without cost.
When asked what his biggest sacrifice was, Mickelson said:
"Food. I've got to eat a lot less and I've got to eat better. I just can't eat as much and I have to let my body kind of recover. But it's also been a blessing for me because I feel better and I don't have inflammation and I wake up feeling good. It's been a sacrifice worth making."
A worthy sacrifice, isn't it?
Phil Mickelson's Fasting Diet Coffee Recipe
12-16 ounces of strong coffee from Ethiopian beans
A few tablespoons of triglyceride oil (medium chain) to accelerate fat burning and counter hunger pangs
A scoop of the amino acid L-theanine to control anxiety and coffee jitters
 A scoop of unflavored collagen protein powder for soft-tissue repair
A spoonful of Manuka honey to subdue allergies
 A spoonful of cinnamon to reduce inflammation
A dash of pink Himalayan salt for electrolytes, decreasing risk of dehydration
Unsweetened almond milk for flavor
(Source: golfdigest.com)