Obi Vincent is a role model for many fitness freaks who aspire to achieve a shredded body. In the quest to achieve a body like a professional bodybuilder, many fails. So, check out Obi Vincent workout routine and his inspiring fitness journey before quitting mid-way through.
Growing up, Obi Vincent was the chubby lazy kid who never played any sports and ate all the junk food he wanted. His fondness for his family's fried Nigerian dinners resulted in him being quite overweight. At one point, his colleagues even started commenting on his weight.
Vincent has gone from being an overweight youngster to becoming a bodybuilder, and he has become a bodybuilding icon who has influenced many people.
But how did Vincent went from lean to shredded? Here is complete details about Obi Vincent's workout routine and his inspiring fitness journey.
Obi Vincent's Fitness Journey – From Lean to Shredded
Vincent's transformation from young TV addict to fitness influencer has been guided by moments of realization, the first of which occurred at his first job.
After a colleague made a joke about his weight, he started running around the neighboring fields and opted for an extremely restrictive diet. At the time, he lost nearly 20kg.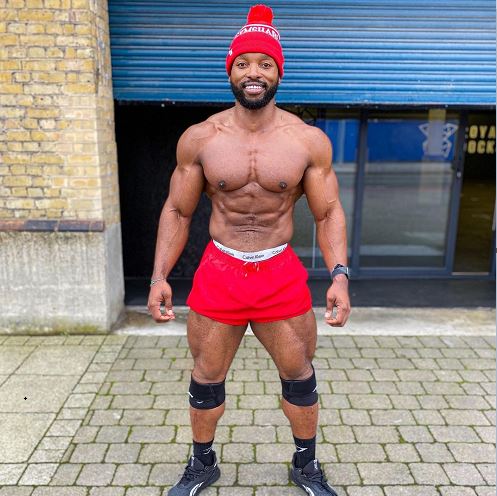 Down from XXL to M, the bodybuilder had his second epiphany when he saw a man with an incredible physique at a club. Following the guy's advice, Vincent joined a gym the next day and started building his physique.
Initially, the unorthodox Vincent worked on his chest and arms only. He recalled:
"I was a typical bro trainer. I worked on my chest and arms and hated legs."
Later, a personal trainer suggested Vincent to take bodybuilding seriously, and that's when he went all in. He began learning about nutrition, macros and daily expenditure, and subsequently went from "lean to shredded."
After the final awakening, Vincent shifted to "CrossLifting" – a versatile training regimen that incorporates bodybuilding, flexibility, and endurance.
Vincent has finally discovered the sweet spot after years of trial and error. It's simple and practical, and, as you can see, it works.
Obi Vincent Workout Routine : His Three-move Workout Regimen
Obi Vincent's workout regimen will help you become a complete athlete by focusing on strength, endurance, and mobility.
Here are three exercises that Vincent thinks are best for almost all the people.
Back Squat (5 sets of 3 reps)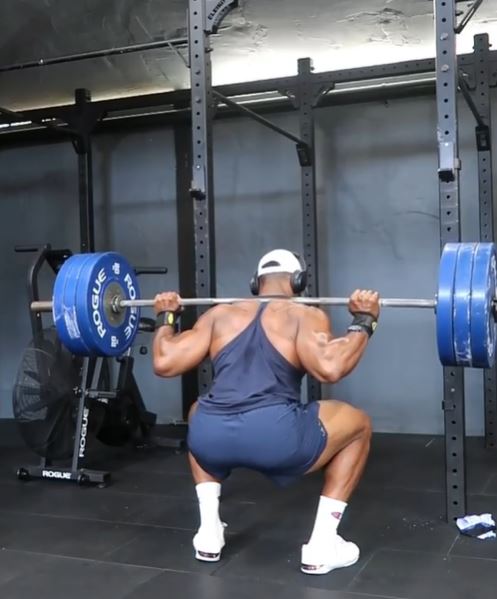 Set up with a barbell across your upper back with feet at shoulder width.
Your back straight, lower until your thighs are parallel to the floor.
Reverse the movement.
Barbell Thruster (4 sets of 15 reps)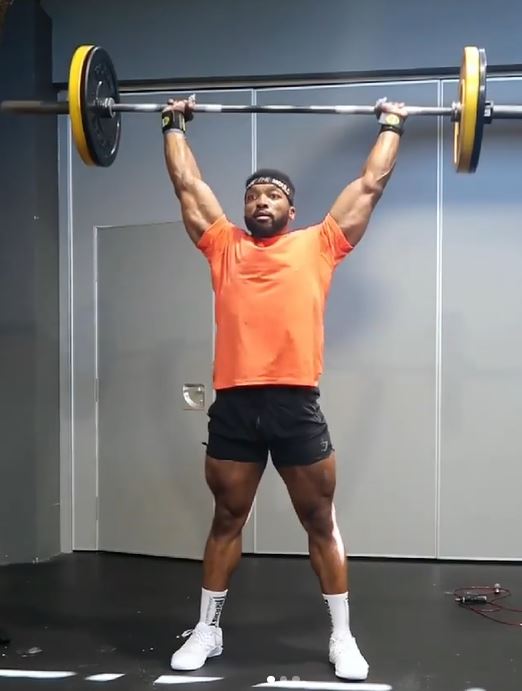 With a barbell across your collar, lower into a squat.
Explode up, lifting the weight above your head.
Sink back down into the squat in a fluid movement, then repeat.
Cossack Squat (3 sets of 10 reps each side)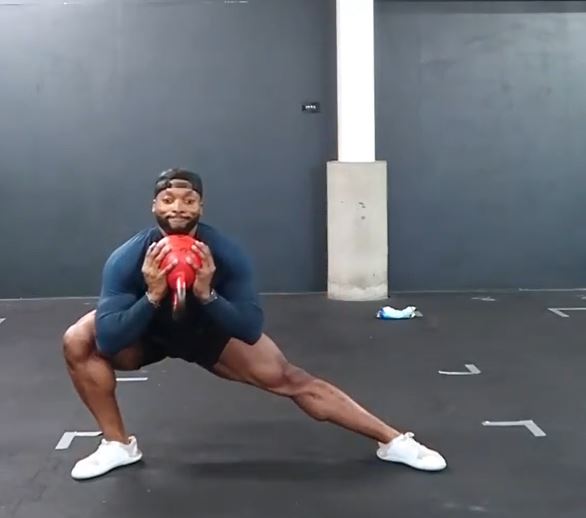 Your feet wider than shoulder width.
Squat down holding an unweighted bar overhead, and shift your weight onto your left leg.
Push back up and repeat on the opposite side.
(Extracted from meanshealth.com)
---
Also, learn what Obi Vincent eats everyday to stay shredded.
---
Obi Vincent's Full Workout Routine
The best workout routine for Vincent's body has been a mixture of Strength Training and High Volume Training. His style of training overall is Super High Volume, and he says that he trains until he feels that he has completely destroyed the body part that he has been training on that day.
Here is Obi Vincent's workout routine. Keep in mind that Vincent advices people to follow his regimen only after the advice of their trainer.
Monday – Back/Abs
Deadlifts 5 Sets X 12, 10, 8, 5, 5 Reps
Wide Grip Weighted Pull Ups 4 Sets X 12 Reps
Single Arm Dumbbell Rows 4 Sets X 15 Reps
Seated Close Grip Rows 4 Sets X 15 Reps
Lat Pull Downs 4 Sets X 12 Reps (Last Set Drop Set)
Close Grip Under Hand Pull Downs 4 Sets X 12 (Last Set Drop Set)
Hanging Leg Raises 3 Sets X Failure
Ab Wheel Rollouts 3 Sets X Failure
Swiss Ball Pikes 3 Sets X Failure
Cable Rope Crunches 3 Sets X Failure
Tuesday – Delts/Traps
Barbell Military Press 10 Sets X 10 Reps
Shrugs 10 Sets X 10 Reps
Close Grip Dumbbell Press 3 Sets X 12 Reps
Dumbbell Lateral Raises 3 Sets X 12 Reps
Cable Cross Overs 3 Sets X 20 Reps
Wednesday – Quads/Hamstrings
Leg Extensions 5 Sets X 25 Reps
Squats 5 Sets X 12 Reps
Dumbbell Split Squats 5 X 10 Reps Each Leg
Leg Press 5 Sets X 20 Reps
Walking Lunges 3 Sets X 50 Steps
Stiff Leg Deadlifts 5 Sets X 8 Reps
Standing Single Leg Curl 5 Sets X 8 Reps
Reverse Barbell Lunges 5 Sets X 12 Reps
Lying Leg Curls 5 Sets X 10 Reps
View this post on Instagram
Thursday – Biceps/Triceps
EZ Bar Curls Under Hand Grip 4 Sets X 12 Reps
EZ Bar Curls (Over Hand) Grip 4 Sets X 12 Reps
Tricep Dips 4 Sets X 12 Reps
Incline Bicep Curls 4 Sets X 12 Reps
Lying Triceps Skull Crushers 4 Sets X 12 Reps
Close Grip Bench Press 3 Sets X 12 Reps
Standing Dumbbell Hammer Curls 3 Sets X 12 Reps
Cable Rope Curls 3 Sets X Failure
Cable Rope Tricep Push Down 3 Sets X Failure
Friday – Chest
Cable Fly's 4 Sets X 20 Reps
Incline Dumbbell Chest Press 5 Sets X 12 Reps
Weighted Chest Dips 5 Sets X 12 Reps
Incline Dumbbell Fly's 5 Sets X 12 Reps
Decline Chest Press 3 Sets X 12 Reps
Press Ups 3 X Failure
Cable Fly's 2 X Drop Sets
Saturday – Active Recovery
Foam Rolling and Mobility or Yoga
Sunday – Quads/Hamstrings
Leg Extensions 5 Sets X 25 Reps
Squats 5 Sets X 12 Reps
Dumbbell Split Squats 5 X 10 Reps Each Leg
Leg Press 5 Sets X 20 Reps
Walking Lunges 3 Sets X 50 Steps
Stiff Leg Deadlifts 5 Sets X 8 Reps
Standing Single Leg Curl 5 Sets X 8 Reps
Reverse Barbell Lunges 5 Sets X 12 Reps
Lying Leg Curls 5 Sets X 10 Reps